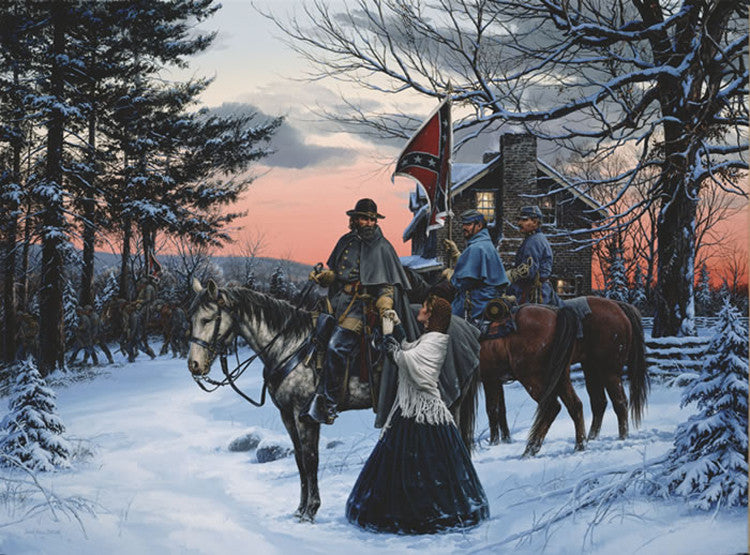 The Parting
by John Paul Strain
   Winter of 1862-63
     Not even the biting cold of a Virginia winter could cool the affection shared by General A.P. Hill and his wife, Kitty Morgan Hill. Theirs was one of the war's great love stories. As commander of "Hill's Light Division" in Jackson's Corps of Lee's Army of Northern Virginia, Hill could rarely leave the army, but Kitty tried to follow her husband. They enjoyed a marriage of devotion, faith and friendship which produced four daughters. Kitty Morgan McClung married Hill in 1859, when the general was a lowly lieutenant in the US. Army. Kitty was the sister of the famous Kentucky cavalry commander and raider John Hunt Morgan. They settled in Washington, where they became a popular couple in the capital's social circle. Their marriage, a daughter later recalled, was "an ideal one." But America's bloodiest war lay just ahead, and many of the army officers who were their friends in Washington would soon be made into enemies by the winds of war.
In March of 1861, Hill resigned from the US. Army and accepted a Confederate colonel's commission in the 13th Virginia Infantry. He was soon promoted to brigadier general and distinguished himself at the Battle of Winchester. He rapidly acquired rank and position, rising from brigadier to lieutenant general in little more than a year.
     Kitty was often nearby. In the winter of 1862-63, following the Battle of Fredericksburg, the couple enjoyed fleeting moments together near the Virginia front. Despite the hardship of war and the demands of command, their relationship remained strong. As a soldier, Hill realized that any day in war could be his last. A final parting would come eventually — on a warm day in early spring near the war's end. Until then, however, they rejoiced in occasional reunions, treasured time together, until the moment came for another parting.
| | |
| --- | --- |
|  Style | Image Size |
| Classic Edition | 24" x 32 1/4" |
| Executive Edition | 29 1/2" x 40" |