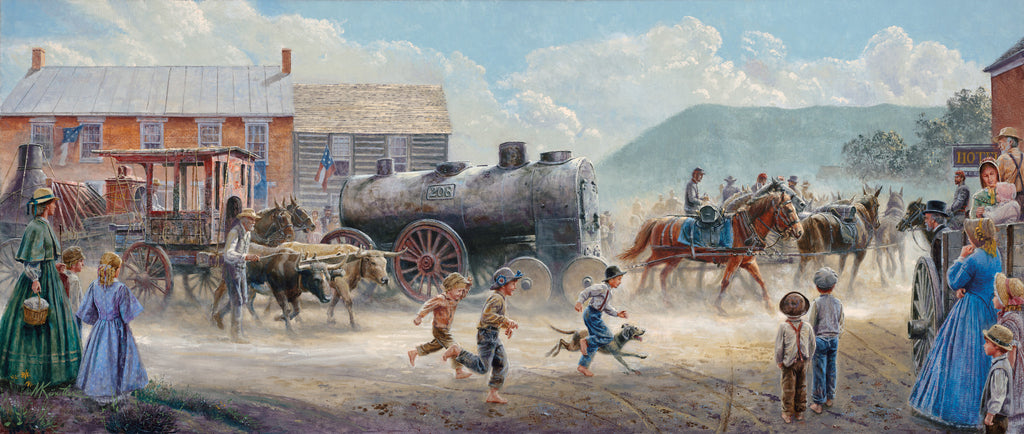 Heavy Traffic on the Valley Pike
by Mort Kunstler
Strasburg, VA, Summer 1861
     During the American Civil War, railroads became a vital military asset, as well as a frequent target of destruction. The ability to move a mass of men and supplies over vast distances, sometimes straight into the fight, made every locomotive, boxcar, track and bridge a precious commodity in the eyes of both armies.
     One general who realized the value of commandeering railroad equipment, as opposed to merely destroying it, was Confederate General Thomas "Stonewall" Jackson. With nothing more at their disposal than the strength of man and beast, Jackson's troops were able to disassemble, transport and reuse railroad equipment on many occasions. One of the most noteworthy of these incidents took place in Strasburg in September of 1861.
     According to a Strasburg newspaper article that appeared on the 7th of September, "Fourteen locomotives, a large number of railroad cars, nine miles of track, telegraph wires and about $40,000.00 worth of machinists' tools and materials, all belonging to the B&O Railroad, have been successfully hauled overland by the Confederates."
     This remarkable event was the first time that a train relocation of this magnitude had taken place on any railroad system in the world. It was in response to the Union army blockades that interrupted rail access from Martinsburg to the southern railroad system. As the only way to transport rolling stock south for future use was overland, the maintenance of a railway system was essential for both the Confederate soldiers and civilians.
     The ability to achieve this endeavor was especially noteworthy, considering the existing condition of the roads and the immense weight of the locomotives. Jackson's men, made up of crews of teamsters, mechanics and laborers, used an entire herd of horses to accomplish the task.
     In order to lighten the load, every ounce of extra weight was removed from the locomotives. This included bells, whistles, pistons, cowcatchers, smokestacks and cabs. The tenders were also removed and the heavy front wheels were temporarily replaced with extra- wide wooden wheels. The rear drivers had to be widened and the effect of the flange eliminated, which was accomplished by adding more wooden wheels with iron banding.
     Teams of forty horses were then hitched together to pull the massive load. These wagon teams included mules, thoroughbreds and workhorses, wearing all sorts of improvised harnesses. Their appearance, while negotiating turns and grades on the macadamized surface of the Valley Pike, must have presented an incredible spectacle, as teams, locomotives, ox carts and wagon-loads of equipment were driven south for the "cause."
     To the right of the painting, pictured in a red kepi, rides Captain Thomas Robinson Sharp, an Assistant Quartermaster in the Confederate army and the officer in charge of the operation. Raised in a railroad family, Sharp had held supervisory positions at five southern railroads including the Virginia & Tennessee and Alabama & Florida.
| | |
| --- | --- |
|  Style | Image Size |
| Archival Paper | 13"x 31" |
| Signature Edition | 14" x 33" |
| Classic Edition | 16" x 38" |
| Premier Edition | 20" x 47" |
| Collector's Edition | 26" x 61" |