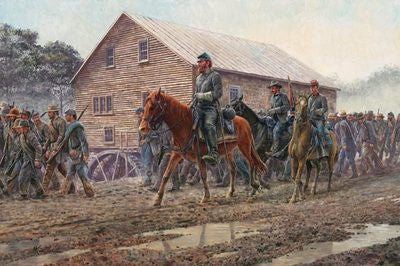 Jackson's "Foot Cavalry"
by Mort Kunstler
     None could outmarch them. Some believed none could outfight them.
     They were known as "Jackson's Foot Cavalry"— so called for their ability to cover more than 30 miles a day — cavalry distance — on the march. Virginians all, they formed a division of troops under the command of General Thomas J. "Stonewall" Jackson in the Shenandoah Valley of Virginia in 1862. In March of 1862, they numbered about 10,000 and had orders to defend the Valley from Northern forces four times their size. General Nathaniel Banks and 40,000 Federal troops had been moved into the Valley to battle Jackson while General George B. McClellan moved his giant Federal army toward the Confederate capital of Richmond. After driving away Jackson's force, Banks was supposed to withdraw toward Washington, D.C. and support McClellan's army as needed.
      Initially, Banks' army pursued Jackson southward through the Valley. Believing Jackson had been driven away, Banks left General James Shields and a division of troops near Winchester, Virginia, and began to move the rest of his army toward Richmond as planned. Jackson, however, led his "foot cavalry" army in a rapid forced march back through the Valley, and struck Shields a surprise blow at the battle of Kernstown on March 23. Although Shields' larger force eventually prevailed, Jackson won a strategic victory by keeping Northern forces tied down in the Valley. Reinforced by 7,000 more troops, he soon attacked again, this time defeating Federal forces under Generals Robert Schenk and Robert Milroy at the battle of McDowell on May 8. At Front Royal on May 23, he attacked Banks, forced him to retreat to Winchester, then decisively defeated him. Banks made a hasty retreat back north and across the Potomac Myer. In response, Washington authorities moved a large Federal force into the Shenandoah Valley to punish Jackson.
     It was not to be. Stonewall had lived in the Valley and he knew the country intimately. His "Foot Cavalry" was already moving by late May, and Jackson escaped a trap set for him near Strasburg. What then unfolded was one of the most brilliant operations of the Civil War: Stonewall Jackson's Valley Campaign. Although threatened by superior Northern forces on two sides, Jackson defeated General John C. Fremont at Cross Keys on June 7, and General James Shields at Port Republic on June 9. Both Federal armies retreated. Meanwhile, General Robert E. Lee turned back McClellan's army in the Seven Days Campaign. Lee had saved Richmond, and Jackson was master of the Valley. In 38 days, his "Foot Cavalry" marched approximately 400 miles, engaged in six battles, defeated five Northern generals and prevented thousands of Northern reinforcements from attacking Richmond. Jackson and his "Foot Cavalry" had become the stuff of legend.
| | |
| --- | --- |
|  Style | Image Size |
| Archival Paper | 18" x 27" |
| Signature Edition | 16" x 24" |
| Classic Edition | 20" x 30" |
| Premier Edition | 25" x 38" |