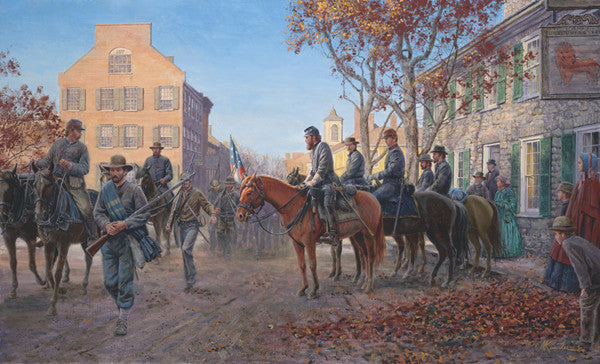 Lion of the Valley
by Mort Kunstler
Stonewall Jackson in Winchester; Virginia, November 6, 1861
     No longer was he "Tom Fool" Jackson. That's what some cadets had called Major Thomas J. Jackson a year earlier at the Virginia Military Institute, where he had lectured on artillery principles, astronomy and physics. He was an expert at artillery, and he memorized his other subjects, but his classroom presentation was anything but inspiring. One student called him "the worst teacher God ever made." His strict adherence to discipline resulted in the expulsion of six cadets, and prompted one student to challenge him to a duel. He often appeared lost in his thoughts, and sometimes even forgot to eat. He walked with an awkward gait, laughed in a peculiar and soundless manner, and would abruptly raise his arm and make a pumping motion to stimulate blood circulation. Beneath such eccentric behavior, however, lay one of history's brightest military geniuses.
     By the time he established his headquarters in Winchester, Virginia in 1861, Jackson's odd habits were overshadowed by his celebrated fame. "Tom Fool" Jackson had become "Stonewall" Jackson — the hero of the Confederate victory at First Manassas. A graduate of West Point and a Mexican War veteran, Jackson had left VMI for Confederate service, demonstrating a command ability that quickly spurred him to the rank of brigadier general and command of a brigade of Virginia troops from the Shenandoah Valley. His rock-hard defense of Henry House Hill at the battle of First Manassas earned him the nickname "Stonewall" Jackson, and made his name heroically famous throughout the South. In November of 1861, he was promoted to major general and placed in command of defending the Shenandoah Valley with headquarters at Winchester. When Jackson led his troops into town on November 6, the residents of Winchester realized they had a hero in their midst - but the flame of fame would soon burn with even greater brilliance.
     In the spring of 1862, Jackson would unleash his remarkable "Valley Campaign" and demonstrate his exceptional military genius. In an extraordinary display of hard marching, hard fighting and brilliant maneuvering, Jackson and his "foot cavalry" would humiliate the Northern armies that threatened the Shenandoah Valley. His triumph there would make him the lion of the Valley, and produce a year-long partnership with General Robert E. Lee that would make Stonewall Jackson one of history's leading military legends.
| | |
| --- | --- |
|  Style | Image Size |
| Archival Paper | 17" x 28" |
| Classic Edition | 20" x 33" |