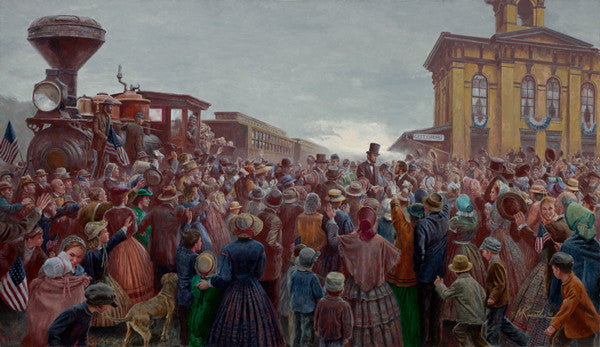 Mr. Lincoln Comes to Gettysburg
by Mort Kunstler
November 18, 1863
     On Wednesday, November 18, 1863 President Abraham Lincoln arrived in the town of Gettysburg, Pennsylvania to attend the dedication of the Soldiers' National Cemetery. His appearance came just four and a half months after the Battle of Gettysburg had ravaged the town and the surrounding region. Although the nation was still caught up in the American Civil War, this opportunity to consecrate hallowed ground offered a welcome reprieve for both the weary president and local spectators. The following day, Lincoln delivered what would become one of the most poignant speeches in American history, but for now, his arrival was celebrated with a campaign-like atmosphere.
     The train that brought the president to Gettysburg also carried his secretaries, three members of his cabinet, a number of foreign ministers, and members of the military from Washington and Baltimore. The large crowd that was assembled at the station included Edward Everett, the keynote speaker for the ceremonies, and local attorney David Wills, who was the president's host during his stay. As he left the passenger car, Lincoln was greeted with a round of cheers.
     Despite his stately appearance, the president felt fatigued from his trip and was later diagnosed with a mild case of small- pox. In addition to the war effort, he was also worried about his son, who was ill at the time. Upon his arrival, Lincoln was handed a telegram that lifted his spirits. Tad was feeling much better. That evening, a more-relaxed president enjoyed dinner at the Wills' residence and a serenade by the Fifth New York Artillery Band before retiring early to finalize his famous address. Although he spent only twenty-four hours in Gettysburg, Lincoln forever altered the town's history with two hundred seventy-two words that continued to reverberate for the generations that followed.
| | |
| --- | --- |
|  Style | Image Size |
| Archival Paper | 17" x 29 1/4" |
| Signature Edition | 16" x 28" |
| Classic Edition | 19" x 33" |
| Premier Edition | 22" x 38" |
| Collector's Edition | 32" x 55" |