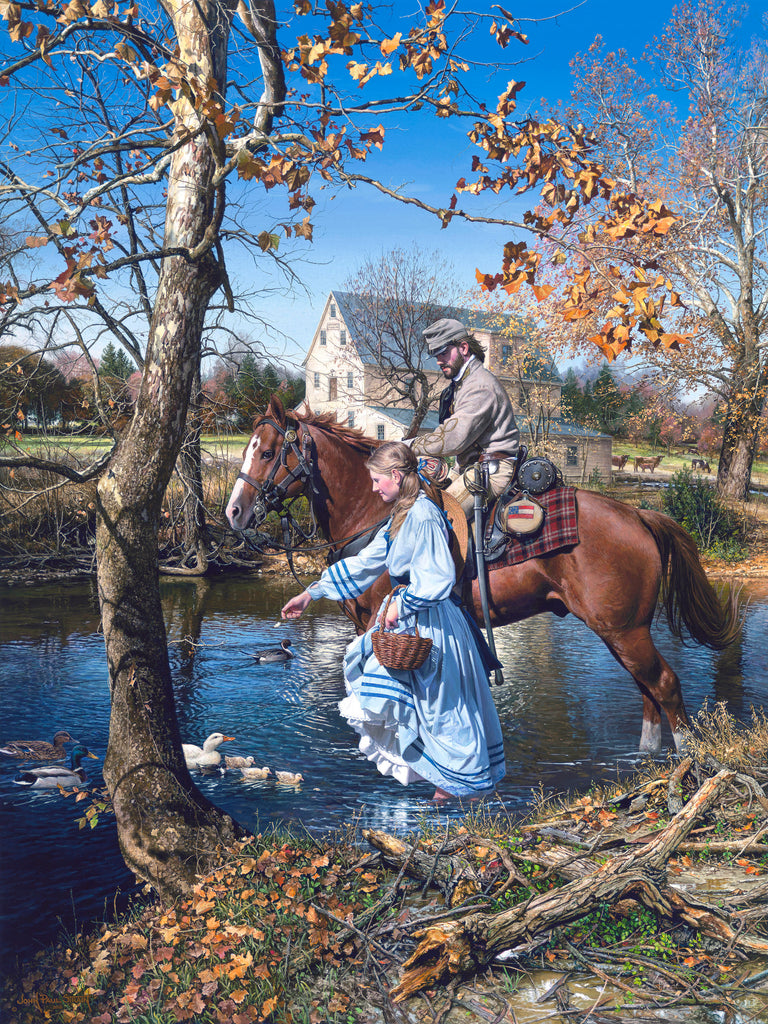 Courting Miss Nellie
by John Paul Strain
Nellie Grandstaff Koontz

Edinburg Mill - Virginia, 1862

Nellie Ellen Koontz was born in Edinburg, Virginia on January 13, 1845.  She was a beautiful, precocious, and strong willed child, being raised by her parents William J. Koontz and Elizabeth Ann Grandstaff.  Nellie's mother was the daughter of Major George Grandstaff, an old US Army veteran of the Mexican War and owner of the Edinburg Mill.  

As the American Civil War raged throughout much of the country in 1862, Nellie was a 17 year old teenager going to school, working on the farm, and helping her grandfather at the mill.  Little did she know she would become a heroine in the Shenandoah, when the "Yanks" came calling 1864.

Women did what they could to help in the war effort.  As men left to join the army, the responsibilities of raising children and running the farm became theirs. Many served as nurses, helping wounded soldiers, often times in their own homes.  Woman applied their skills at making clothing, blankets, quilts and even socks, for the army. 

But despite the war, life went on.  Friendships were made.  Eligible young girls would attend parties and dances to meet young men.  They would write letters to their sweethearts who were away serving in the army, hoping for their safe return.

In the autumn of 1864 the war would arrive in the little town of Edinburg.  Union General Philip Sheridan sent his soldiers to burn down the Grandstaff Mill and anything of value to the Confederate Army.  Nellie and her cousin Melvina galloped to Sheridan's headquarters to plead with him for mercy, as their grandfather was a US war veteran.  Sheridan rescinded his orders for the destruction of the mill, and the two girls galloped back to Edinburg saving the mill in the nick of time.

After the war was over, Nellie married Newton French McCann and the couple would have three children.  After a long and happy life, Nellie passed away in Edinburg on September 19, 1927.  To this day the legend of her exploits during the Civil War lives on in the Shenandoah Valley.

Archival Paper Giclées

200 S/N Paper Giclées
50 Artist's Proof Paper Giclées
Image Size 26" x 19 1/2"

 

Canvas Giclées

100 S/N Studio Canvas Giclées

15 Artist's Proof Studio Canvas Giclées

Image Size 24" x 18"

 

100 S/N Classic Canvas Giclées

15 Artist's Proof Classic Canvas Giclées 

Image Size 32" x 24"

 

20 S/N Executive Canvas Giclées 

5 Artist's Proof Executive Canvas Giclées

Image Size 40" x 30"