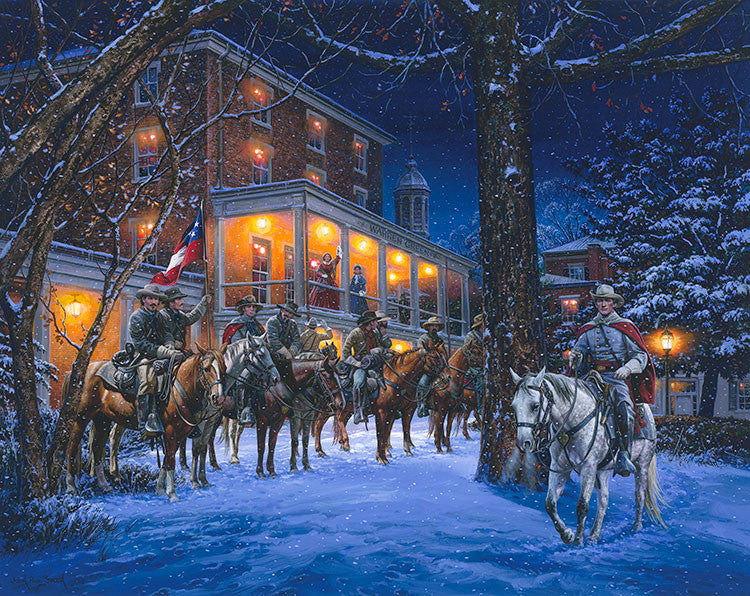 Mosby's Rangers in Warrenton
by John Paul Strain
     Warrenton, Virginia was Mosby's Rangers country. The Rangers were a partisan unit of local young men that operated in and around Fauquier, Loudoun and Fairfax counties. Using the tactics of unexpected lightning raids, clandestine night operations, and then disappearing into the countryside brought fear and uncertainty to Federal soldiers. Whether real or imagined, no Federal soldier ever felt safe in Northern Virginia.
     After Mosby and his Rangers captured Brigadier General Edwin H. Stoughton in the middle of the night, along with Z Captains, 30 enlisted men and 58 horses with out firing a shot, even senior officers and high ranking politicians were worried who or what would be next. Nightly orders even included removing the planks from bridges leading into Washington to protect President Lincoln from being captured.
     After a raid Mosby and his men would scatter and find shelter and food in local patriotic Virginian homes. These homes were called "secret closets" by the men, and would often have hidden rooms or compartments to squirrel away a Ranger if the Federals came calling. Rangers would often share their captured "booty and money" with the friends they stayed with. Sometimes they helped with chores, plowing the fields and harvesting. Residents knew however they would face harsh reprisals if caught harboring partisans, so a watchful eye was kept for Federal movements. Information was passed from house to house becoming an informal spy network for the Rangers.
     On the snowy evening of January 18th, Mosby and his Rangers stopped in Warrenton for a well deserved dinner at the Warren Green Hotel. Upon leaving he gave instruc tions to his men to hide among friends in Fauquier county and meet him on January 26th at Mount Zion Baptist Church just east of Aldie for their next adventure.
| | |
| --- | --- |
|  Style | Image Size |
| Archival Paper | 19 1/4" x 24 1/4" |
| Studio Edition | 19" x 24" |
| Classic Edition | 25" x 31 1/2" |
| Executive Edition | 31 1/2" x 40" |