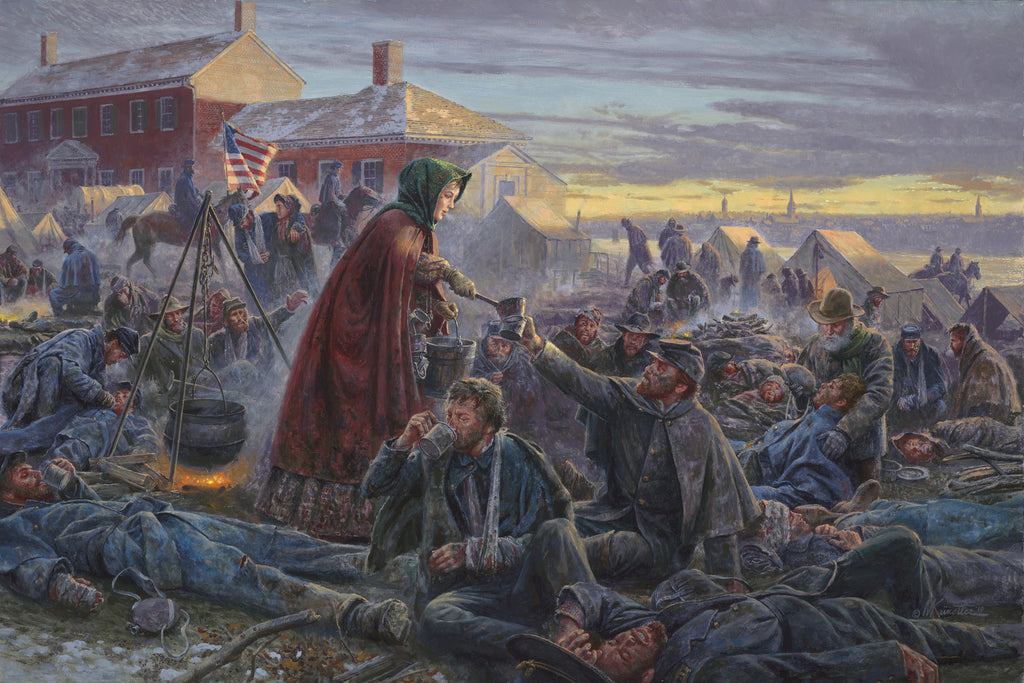 The Angel of the Battlefield
by Mort Kunstler
Clara Barton with Walt Whitman at Chatham, December 15, 1862
     In December of 1862, the small town of Fredericksburg, Virginia bore witness to one of the most one-sided battles of the entire Civil War. After crossing the Rappahannock River and taking possession of the heavily shelled town, Federal troops were devastated during a series of futile assaults on an impenetrable area beyond the city limits known as "Marye's Heights."
     Local churches, homes and businesses were often commandeered by the military to be used as field hospitals. Unfortunately, the conditions at these makeshift medical sites were often deplorable. One woman who was determined to improve the healthcare of wounded soldiers everywhere was a volunteer nurse named Clara Barton.
     After assisting surgeons in the town's battered churches, Barton went back across the river to the Lacy House, also known as Chatham. Located atop a bluff called "Stafford Heights," the estate overlooked Fredericksburg and had originally been used as the Union army headquarters prior to the battle. By her estimate, there were no fewer than twelve hundred men crowded into the rooms of the mansion, with rows more stationed outside on the cold hard ground.
     Lying among this sea of bloody blue uniforms were a number of gray—clad wounded in need. One rebel, Captain Thurman Thomas of the 13th Mississippi Volunteers, was caught behind enemy lines, but grateful for the mercy he received. The "Angel of the Battlefield," as Barton was called, treated the wounded Confederate with the same care and concern that she employed with her own boys. Her act of charity for Thomas and his companions echoed the sentiment that true compassion drew no political distinction.
     For the next two weeks Barton stayed at Chatham, where she saw "hundreds of the worst wounded men l have ever seen." Throughout the remainder of the war she routinely helped soldiers from both sides, and those who survived regarded her as their savior. 
     Following the end of the war, Barton traveled abroad, helping to end suffering on an international level. In 1881, she founded the American Red Cross, which continues to carry on her mission of mercy today.
| | |
| --- | --- |
|  Style | Image Size |
| Archival Paper | 17" x 25 1/2" |
| Signature Print | 16" x 24" |
| Classic Edition | 18" x 27" |
| Premier Edition | 22" x 33" |