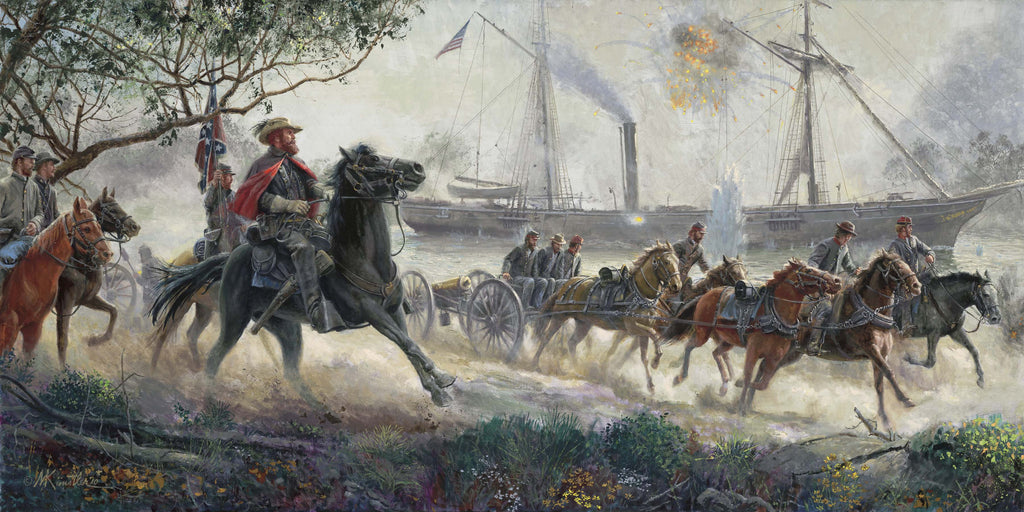 The Strangest Race
by Mort Kunstler
J.E.B. Stuart, White House, VA, June 29, 1862
The summer of 1862 witnessed one of the most unusual skirmishes of the entire American Civil War. Confederate cavalry commander Jeb Stuart received information that there were 5,000 Union soldiers guarding a nearby depot and decided to attack. As the sun rose the following day, Stuart's troopers arrived at the location, only to find that the enemy had already departed.
Less than a mile away, the rebel cavalry discovered the Union gunship U.S.S. Marblehead, anchored on the nearby Pamunkey River, close to the shoreline. Stuart immediately ordered a detachment of his men to attack the ship and prevent its escape. As they neared, Federal troops disembarked and began firing on the horsemen.
Major John Pelham, a gifted Confederate officer, positioned his horse-drawn artillery along the shoreline and was able to fire several shots that exploded above the Union ship. What followed was a highly unique melee in which cavalry, naval and artillery units engaged one another.
As the gunboat gathered steam, its defenders were called back on board and the ship quickly withdrew downstream. Pelham's men continued to follow it along the water's edge, firing at the retreating vessel for as long as their horses could keep pace with it.
The Marblehead finally managed to escape from its pursuers. Later, it was reassigned to the South Atlantic Blockading Squadron. There, the ship commenced to patrol the southeastern coast in search of Confederate vessels. After several reassignments, she was finally decommissioned in September of 1868.
| | |
| --- | --- |
|  Style | Image Size |
| Archival Paper | 15" x 30" |
| Signature Edition | 14" x 28" |
| Classic Edition | 17" x 34" |
| Premier Edition | 22" x 44" |