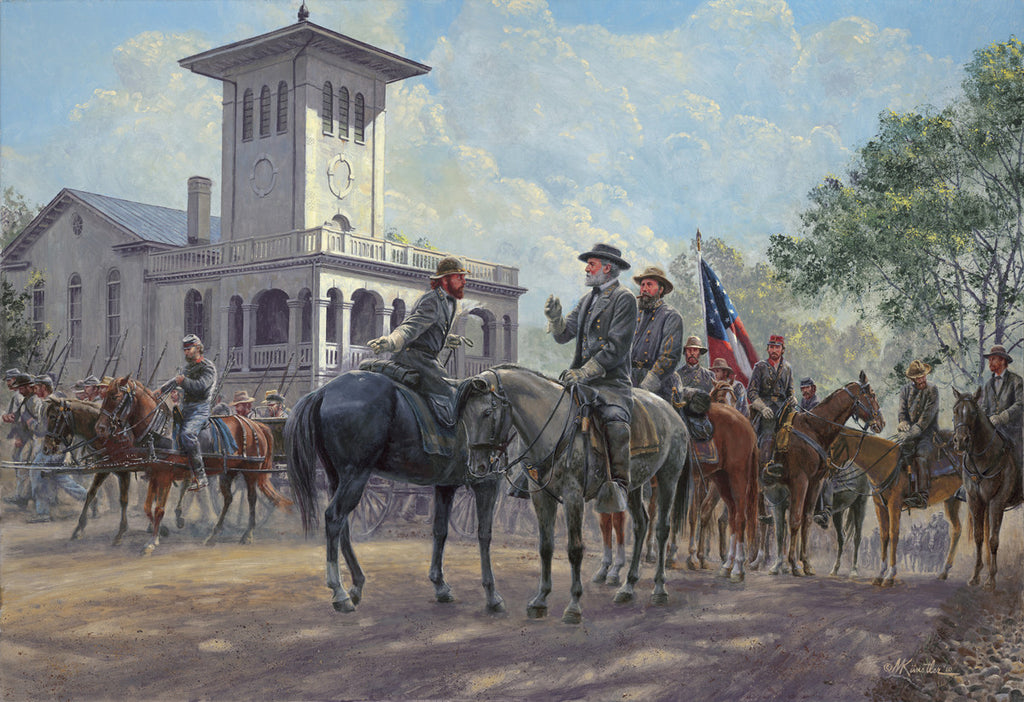 Unconquered Spirit
by Mort Kunstler
A.P. Hill, Lee, and Longstreet, Orange, August 1863
     After suffering a stunning defeat at the Battle of Gettysburg in early July of 1863, a bruised and battered Army of Northern Virginia retreated south from Pennsylvania, back into the familiar fields of the Old Dominion.
      On August 8th, General Robert E. Lee sent a letter of resignation to Confederate States President Iefferson Davis, who summarily rejected the offer. Davis, like Lee's men, had retained belief in their supreme commander and his ability to lead.
Among his strongest supporters and most loyal officers were General A.P. Hill and General Iames Longstreet. Both men had fought well under Lee's tutelage and their unwavering allegiance to him was passed down through the ranks.
     As the healing army approached Orange County Virginia in mid-August, General Hill was able to visit his home in nearby Culpeper and spend some precious time with his family. General Longstreet oversaw the march toward what would become the winter camps.
     En route to their destination near the Rapidan Line earthworks, the Confederate forces marched past the Orange County Courthouse over a period of several days. The surrounding streets were filled with the sights and sounds of thousands of men, horses, wagons and artillery pieces passing by.
     The courthouse became a beacon among the sea of gray uniformed masses. It was here where General Lee and his most trusted lieutenants would reunite to begin the process of resting and rebuilding their seasoned army. No one could foresee the ferocity of the fighting to come, and Orange County would witness some of the worst.
| | |
| --- | --- |
|  Style | Image Size |
| Archival Paper | 19" x 28" |
| Signature Print | 17" x 25" |
| Classic Edition | 21" x 31" |
| Premier Edition | 27" x 39" |