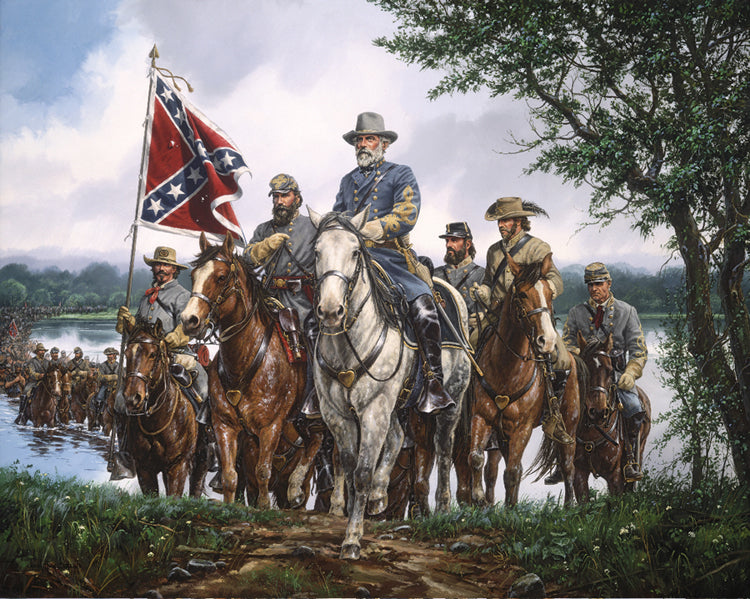 Williamsport Crossing
by John Paul Strain
Williamsport, Maryland
June 25, 1863
Platinum Canvas Collection
It had been nearly two months since the battle of Chancellorsville where General Robert E. Lee had achieved his greatest victory. With the skills of his great general, "Stonewall" Jackson, Lee was able to defeat and turn back an offensive by the vastly superior Army of the Potomac led by General Joseph "Fighting Joe" Hooker. The price had been high, and some would say too costly, as another result of the battle was the loss of Lee's most talented general, Thomas J. Jackson. Lee's first reaction to the death of Jackson was that it was "God's will," and he felt sure that the Lord would raise up another leader equal to Jackson's abilities. In future campaigns he would realize that no one could fill his shoes and the loss of Jackson changed the course of the war.
In May 1863 General U.S. Grant was laying siege to the strategically located city of Vicksburg, Mississippi. President Jefferson Davis called the city the "link that holds the South's two halves together." If Grant could take the city, the Federals would control the Mississippi River an split the Confederacy. Davis wanted Lee to do something about Grant. There was talk of sending Virginia troops to General Johnston in the west to beat back Grant and save the city. Lee had a bolder plan. He would invade the North and possibly take the pressure off Vicksburg with his new invasion. With another major victory on northern soil, perhaps Lincoln might even talk terms for peace.
On the rainy morning of June 25, 1863 General Lee with his three corps of about 65,000 men crossed the Potomac River in a desperate endeavor to win independence for the Confederate States of America. As Lee and Longstreet crossed with the First corps and rode out of the river that had divided a nation, a band struck up the tune of Dixie as they entered Maryland. No one know what lay ahead, but spirits were high and the look of power and determination was seen on Lee's face, as he had come to believe in the invincibility of his army.
Canvas Image Size 25" x 31 1/4"